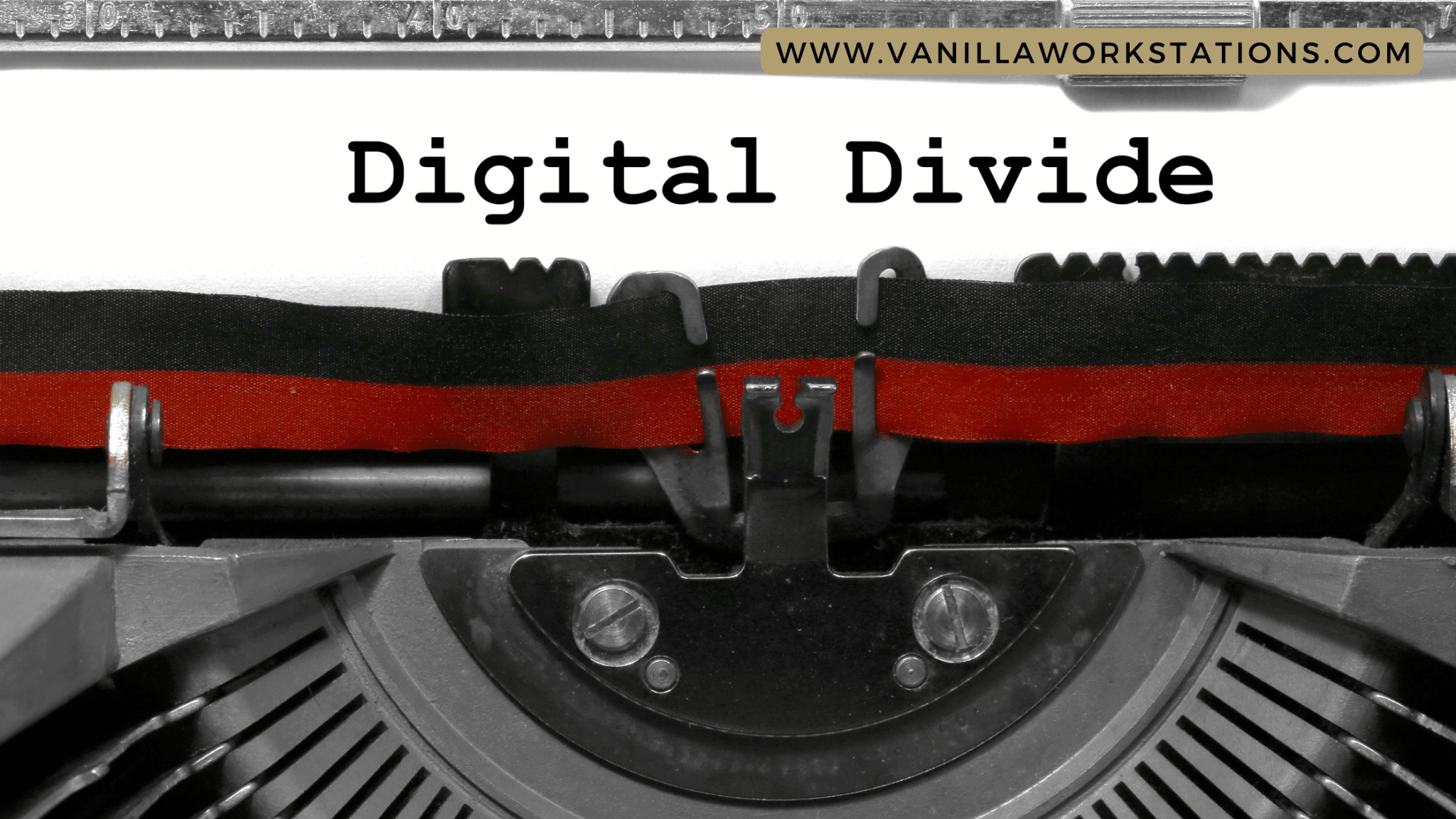 The United States is a country where one's economic status can change with the snap of a finger. The disparity between the rich and poor is staggering, and it's even more practical in schools—the digital divide in American education. The tech gap between rich and poor is vast. Many classrooms are still equipped with chalkboards and projectors, while others, that have better funding, have all the latest gadgets available to them. This technology gap has been shown to create an unequal learning environment.
Can this gap be narrowed? What do we need to do to ensure that everyone has access? We explore these questions in this article about the digital divide in American education.
What is the digital divide?
The digital divide refers to the gap between those who have access to computers and the internet and those who do not. This gap is limiting for all Americans, especially for those with lower incomes or without higher levels of education. The digital divide will continue to grow unless steps are taken to close it.
How Technology Affects Education
There's no denying that technology has changed the way we learn. We are constantly bombarded with new technologies, from websites to apps, and it is hard to keep up. But what does this mean for the kids who don't have access?
This can be a significant disadvantage when it comes to education. Many of the latest programs are only accessible through computers or tablets. This leaves many students out of luck and fewer educational opportunities than their peers. The digital divide in American education is an issue that needs to be addressed to provide all children with equal educational opportunities.
Digital Divide During the COVID-19 Pandemic
The COVID-19 pandemic has brought a significant shift into remote learning. This means that remote learning became the new normal, especially during the first two years of the pandemic. And this heightened the already ensuing digital divide in American education. Here are some of the consensus about the digital divide in American education during the COVID-19 pandemic: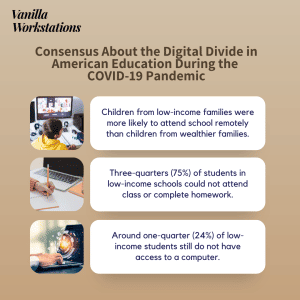 Deepening the Digital Divide
Education Week conducted two surveys in March and April 2020 that included more than 2,600 teachers and school district leaders. The findings showed that moving American schools online has been impeded by a shortage of student digital devices and internet access at home.
More than that, many teachers are still using chalkboards and projectors for lessons. This may be because they don't know how to use more advanced tech tools or because their school doesn't offer these resources. As a result, students from wealthier families have better access to technology in their homes and classrooms.
Narrowing the Digital Divide
It's easy to point fingers and blame, but there are solutions we can all take to help solve this problem. We need more funding and grants for schools, that's for sure. Fundings and grants will give schools more resources for their technology. They can get more computers from workstation vendors and improve classroom technology. This is specifically important for school districts from low to middle-income areas.
We can bridge the digital divide in education with the right initiatives and collaborations and create a level playing field for all students.
The digital divide in education is real. Yet it's not just an issue of access; it's also an issue of equity. Even if students have access to technology, they may not be able to afford the devices and internet service. Education leaders need to explore new ways to bridge the digital divide and deepen the tech gap. This ensures that students from all backgrounds have equal opportunities to thrive.
One of our mission here at Vanilla Workstations is to make technology accessible for all students and teachers so they can focus on learning. Our custom workstations are made for today's classroom and with students in mind. We want to provide every student with the technology they require, prioritizing the essentials without charging extra fees.
About Vanilla Workstations
Vanilla Workstations is committed to making affordable technology accessible to school districts in America. Our computers are engineered for students and education spaces. To know more about our services, contact us here or call us at (888) 779-1972. Go for reliability; go for Vanilla Workstations.